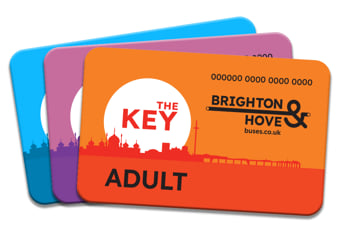 Buying tickets for the key
Where can I buy tickets for my key?
The cheapest way to buy tickets is online anytime of the day or night. Or alternatively at our Brighton & Hove Travel shop, 26 North Street, Brighton, or our Reception desk at 43 Conway Street, Hove.
How do I buy tickets online?
Tickets can be bought online. If you registered for your key online you will already have a personal online account and you're ready to buy tickets to use on your key. Just log in and follow the simple instructions on the screen. Your new ticket will be loaded onto your key the day after you buy it, providing that you make your purchase before 9pm. This is to allow our buses to receive this information overnight.
Due to reception problems in Eastbourne your online key card ticket may not update before 9am the day after purchase. The following routes 12/12A/12X that originate from Eastbourne Garage are affected. Departures from Eastbourne Pier on Mondays to Fridays at 6.09am, 6.19am, 6.42am, 7.02am, 7.45am and 8.05am; on Saturdays at 6.55am, 7.15am, 7.50am, 8.10am, 9.05am and 9.25am; and on Sundays at 8.46am, 9.06am, 9.36am and 10.06am.

Please allow an extra day after your online purchase for tickets to be available on these services.
What can I do if I have problems?
Telephone our Customer Services team on 01273 886200 between 6am and 10pm Monday to Friday, from 8am to 10pm on Saturdays and from 8am to 10pm on Sundays and bank holidays. key/smart thekey@buses.co.uk
How long will my tickets remain valid?
Unused SAVER tickets on the key will expire after 12 months from the date of purchase. Refunds cannot be given for SAVER tickets which remain unused after this period. However, if further SAVER tickets of the same type are added to the key card by topping up, the life of all SAVER tickets remaining on the card at that point, will be extended for a further 12 months.
This excludes annual and Pay Monthly products, for which a start date is specified by the customer at the time of purchase.
When I buy my next ticket will the price be the same? Is it any cheaper or more expensive because it's on a key smartcard?
Key SAVER tickets purchased online or at our 1 Stop Travel shop are cheaper than their scratch card equivalents, or day tickets purchased from the driver. If you buy your tickets online, you may also be eligible for special offers, as your email address will be on our database.
When do my ticket(s) start?
Your ticket(s) will sit on your card until you activate them by using the bus, so you don't need to give a start date when you buy them, except in the case of annual tickets.
Do I have to wait until the tickets on my key have expired before I can buy new tickets?
No. You can buy new tickets at anytime before the tickets on your key have expired. In fact, we would recommend this. Tickets are kept safely on your key ready for when you need them. They will start the next time you use the bus after your previous ticket has expired.
What tickets can I buy for my key?
You can buy SAVER, student SAVER and BusID Saver tickets for your key. To see our full ticket range go to:
buses.co.uk/thekey. Tickets will start when they are first used on the bus. The key does not hold money, and is not a stored value card.
Can I have more than one ticket on my key?
Yes, in many cases you can buy mutiples of a ticket type. Your card can also hold different types of ticket such as day and week tickets. In these cases, the driver will ask which you which one you want to activate when you first use it.
I don't have a bank card. Will I be able to buy tickets for my key?
If you don't have a bank card you can still pay with cash for your tickets. If you want to pay by cash you can at our Brighton & Hove Travel Shop at 26 North Street, Brighton or at our reception desk at 43 Conway Street, Hove.
Are there any charges for using my debit or credit card?
There are no additional charges for using a debit or credit card. You only pay for the price of the ticket.
Are my payment details secure when I buy tickets online?
We have taken many steps to ensure the security of your online payment transactions including the adoption of the payment industry standard PCI DSS. Brighton & Hove does not hold any information about your financial transaction other than details of the type of tickets you purchase and when and where the purchase was made.