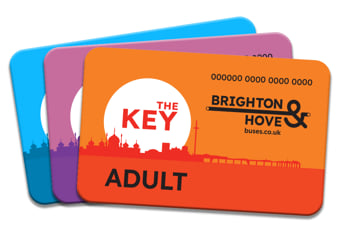 What should I do if I lose my key?
Email us at thekey@buses.co.uk with your details, give us a call on 01273 886200, or pop in to our Brighton & Hove Travel shop in North Street Brighton and we can cancel your current key the same way as a bank can cancel your bank card, so that no one else can use it. We will then transfer unused and part used tickets from your old key to a new one. As a basic security check we will ask you to confirm your details before we cancel your key and issue a replacement.
There is a £5 admin fee charged for this facility.
The replacement key will have the same validity as the key it has replaced and we will credit it with the tickets that were stored on the lost key at the time of cancellation. Once cancelled, a key cannot be "re-activated" and your £5 admin fee will not be refunded.
We cannot reimburse any tickets purchased as a result of a key card being lost, stolen or damaged. Periods of travel elapsed between the key card being lost and Brighton & Hove Buses being informed cannot be replaced.