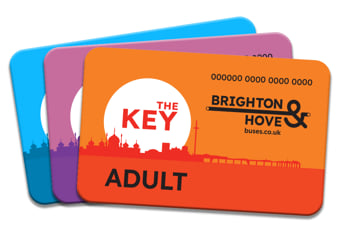 How do I get the key?
How do I get the key? Does it cost anything?
The key is free to anyone and delivered direct to your door! You can get your key by registering online or calling in to our Brighton & Hove Travel shop North Street.
How long does it take for my key to arrive?
We aim to post your key card to you the next working day. Please allow extra time to allow for weekends and Bank Holidays.
What details do you need when I register for my key?
As the key is registered to you as an individual on registration you will be asked for:
your name,
address,
date of birth
contact details
email address
busID under 18 Travel?
We'll also ask for a photograph and proof of age, if you're applying for a busID key.
I am under 18. I thought I could use my busID key to travel without any tickets on it?
busID key smartcards issued to under 18's can be used to get discounted cash single fares on our services, see our busID page for details. To get the discounted single fare just show your busID key to the driver on the bus.