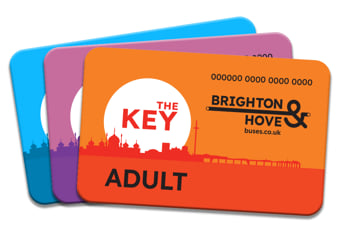 Other general questions
The Driver took my key card from me. What should I do?
If there is a problem with your key or we believe your key has been tampered with in any way we may withdraw it. A driver or any official of Brighton & Hove is entitled to retain any key which becomes electronically unreadable or they believe has been tampered with, or is being misused. Where a key has become corrupt or faulty through no fault of your own we will replace it and transfer any unused tickets that were on it when it was withdrawn. Call us on 01273 886200 or email us at thekey@buses if your key has been withdrawn.
Is my key transferable to other people?
Yes. An Adult card can be used by other people, providing that it is not during the same journey. busID key smartcards are not transferable as these have a photograph for your security so no one else can use it. Student key smartcards are not transferable as these require a valid student ID card. If someone else tries to use your key, it will be confiscated and both the person to whom it was issued and the person, to whom it was transferred or attempted to be transferred, will be liable to prosecution.
I have tickets on my key I don't need anymore. Can I get a refund?
If you have purchased a ticket which you have been unable to use or which has been damaged you may be eligible for a refund. An administration charge of £10 will be deducted from any refund made. A refund is only available to the original purchaser and proof of purchase to verify this may be requested. Refund requests can be applied for in writing and sent to thekey@buses.co.uk.
We have a standard refund and replacement policy which applies in all cases; this is available to view on our website.
Refunds are not to be confused with the transfer of outstanding tickets from a lost, stolen, or damaged key – see questions relating to this.
Why do I need to give you my personal details when I register for a key?
If you lose your key or there is a query with your key we want to make sure that we get can get any unused tickets back to you or that you can talk to us about your key.
Information we collect from you includes, title (Mr/Mrs/Ms/Miss etc), first name, and surname, address, telephone number, email address, date of birth and gender. For BusID key holders we also hold a photograph of the user.
If you have ticked the relevant box on the application form, we may also contact you to keep you updated with information about Brighton & Hove services such as timetable changes and fare changes and also to inform you of special offers and other related products and services from Brighton & Hove or Go-Ahead Group, our parent company. You can opt out from receiving emails, by logging into your account and changing your preferences.
What do you do with my personal details? How do I know it is safe?
We take your privacy very seriously. We will not pass your information to third parties outside of the Go-Ahead Group plc unless required by law. We process and store personal data in accordance with the latest Data Protection Act legislation.
We will only use information that you have supplied for administration (including development and maintenance of our systems), customer service, our own research, and detection and prevention of crime. If you have ticked the relevant box on the application form, we may also contact you to inform you of special offers etc, as indicated above.
When using the key our system records the location, date and time a key was used. This information is used anonymously for research and development. We will never pass on the specific details of journeys made to anyone other than the registered user of that key unless we are required to by law. You can view details of your personal journeys made on your online key account, or by calling us on 01273 886200.